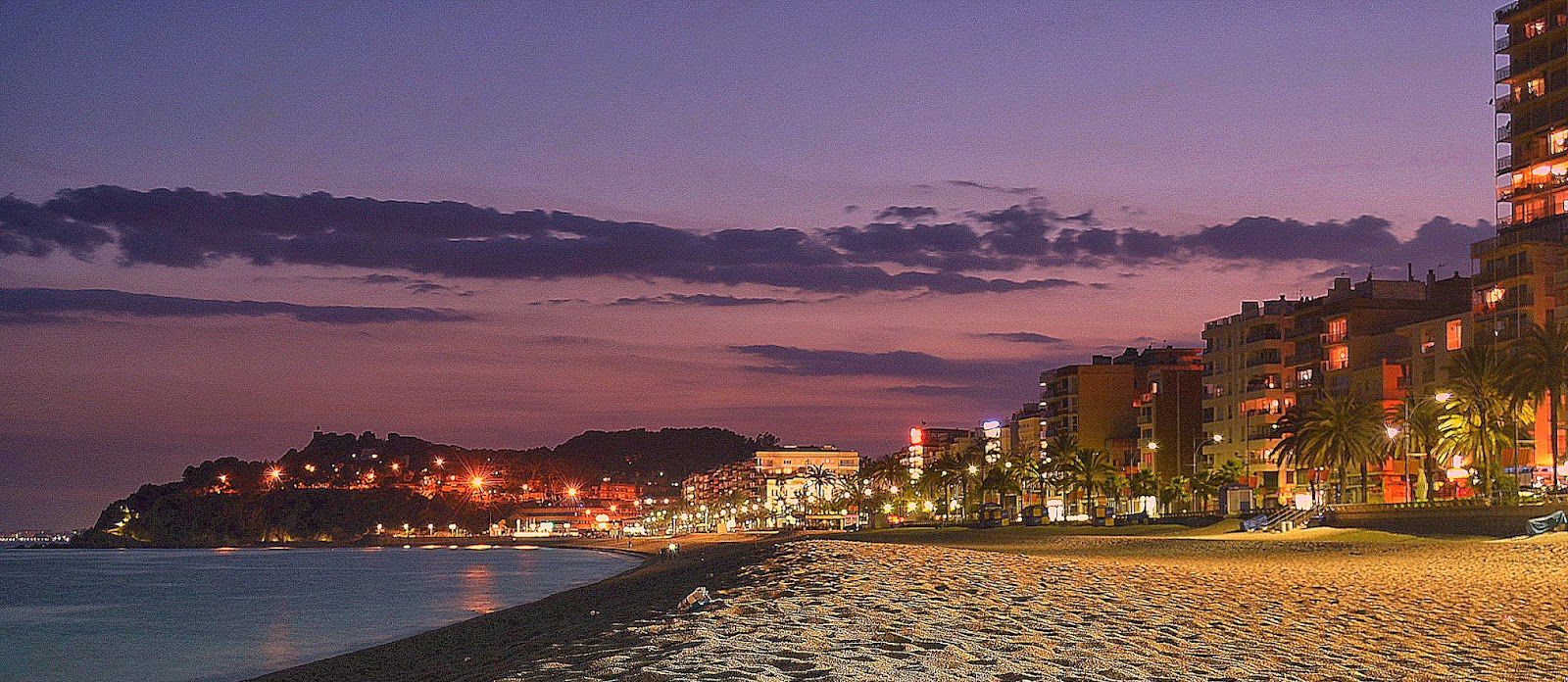 What to do in Lloret de Mar? Enjoy the Costa Brava
Have you organized a trip to the Costa Brava and don't know what to do in Lloret de Mar? Don't worry, we promise that after reading this article you will know the most touristic places in the centre of Lloret and its surroundings, as well as the nearby towns of the Costa Brava for a fantastic holiday.
The Costa Brava is without exception one of the most chosen tourist destinations in Spain to enjoy the summer holidays. Both locals and visitors from France, Italy, Holland, Germany, England, among others, choose to stay in Lloret de Mar, not only because of the beaches that can be accessed from the seaside city, but also because all the activities that can be enjoyed in its surroundings.
Whether you are a nature, art, sport or adventure lover, or just want to spend a family holiday, in this publication we offer you a list of fantastic plans for you to do in Lloret de Mar and its surroundings: beaches, boating, visiting magical villages, downtown tours, restaurants, entertainment… discover them yourself!
What to do in Lloret de Mar?
If you want to know more about Lloret de Mar, we propose some tourist places in Lloret de Mar to visit walking:
A stroll in Lloret de Mar downtown.
Strolls in Lloret de Mar downtown are very entertaining, Venice street along Vila street have a long walk full of little shops where it's impossible not to browse and places to eat and have an ice cream for that summer day.
The Castle of Sant Joan has incredible views, it is a castle located at the top of the hill that separates the beaches of Lloret de Mar and Fenals. Its chapel was consecrated in 1079, but today there are only a few vestiges of it as a result of different wars, but the tower of homage remains in place. It has good access on foot or by vehicle. We advise you to go in the evening to watch the sunset.
Dona Marinera or Venus de Lloret
On your way to the Castell de Sant Joan you will find this bronze statue. It is a tribute to the sailors' wives who waited for their husbands for long periods of time.
The Dona Marinera is located to the south of the Platja Gran de Lloret in an elevated point that offers wonderful views of the city.
Gardens of Santa Clotilde
Just a few minutes away, if you continue bordering Fenal Beach, you will reach the Santa Clotilde Gardens, an impressive space of 27,000 square meters of gardens where you can disconnect yourself from the outside world and enjoy its green spaces and fountains.
Not to be missed!
Cultural visit in Lloret de Mar
Lloret de Mar is usually associated with beaches, sun and summer activities, although it is much more than that! If you are in the city, you must also get to know its culture and history, as well as its emblematic buildings and museums.
If you want to get to know the city in depth, here's our proposal:
You've probably seen this building if you have looked up when walking around the city. This church is without a doubt Lloret de Mar's emblematic building. Although the church began to be built in 1509, its chapels are modernist in style and represent one of the most important works of Catalan modernism from the end of the 19th century and the beginning of the 20th.
Definitely an architectural gem to be appreciated!
To continue with the modernist jewels of Lloret de Mar you must visit the Casa Font, a modernist manor house from 1898 that belonged to the indiano (people that came back rich from America) Nicolau Font. You will transport yourself to the Catalan modernist bourgeoisie era and appreciate its decoration and rich craftsmanship and the beauty of all the details of its rooms.
Museu del Mar – Can Garriga
The Museu del Mar is another of the most charming and historic sites in Lloret de Mar. In its time, it was the indiano house of Enric Garriga, who made his fortune in Cuba and when he returned, built this house in Lloret's downtown. In 1981 it became a museum and one of the most famous tourist attractions of the city that you can't miss. It represents a journey in time and the relationship between the city and the sea.
Modernist Cemetery of Lloret de Mar.
Finally, don't forget to visit the Modernist Cemetery of Lloret de Mar. Built between 1896 and 1901 by Joaquim Artau, coinciding with the return of many indianos (people returning from America) to their original villages which, after making a fortune, commissioned pantheons and mausoleums of great modernist artists like Puig i Cadafalch to perpetuate their memory.
It is without doubt one of the most outstanding tourist attractions of the city, since it gives us a wide perspective on what funerary art was during the Catalan modernism splendour.
Lloret de Mar beaches
If what you really want is to enjoy the sun and peace on the beaches of the Costa Brava, you are in the perfect place! Below is a list of coves and beaches to visit that we recommend.
Lloret beach is one and a half km long, the longest beach in town and is located in the centre of Lloret. From Camping Lloret Blau you will reach it with only a 10 minute walk and it is ideal for a day at the beach, the sand is white and thick, and it has the necessary services to enjoy the sun and the sea in total comfort.
The little ones will enjoy playing in the sand and in the water to the maximum. In addition to this main beach, Lloret has many more beaches and coves, Fenals Beach, Santa Cristina Beach, Canyelles Beach, Treumal Beach, Cala Boadella, Cala Banys, Sa Caleta, if you like to discover new places, you have many beaches to visit.
Remember that if you intend to travel with your pet, the area has Pet Friendly beaches. Among them, we recommend Playa dels Gosos, just a twenty-minute drive from Lloret de Mar and Playa de Poblenou, less than half an hour drive from Pineda de Mar, with an area for dogs of more than 100 square meters, available 24 hours a day and 365 days a year.
Activities and sports on the Costa Brava
Do you like to enjoy outdoor sports during your holidays and enjoy nature and the Costa Brava scenery? We propose a number of activities to make your stay a real adventure!
Cycling on the Costa Brava
For road and MTB cycling enthusiasts, Lloret de Mar has over six hundred kilometres of secondary roads to discover by bike, and miles of routes and trails in the wooded hills to test your technical skills.
Its pleasant temperatures almost all year round and the beauty of its landscapes make Lloret de Mar and the Costa Brava in general a perfect destination for cycling enthusiasts.
We recommend the coastal road from Lloret to Sant Feliu de Guixols, a route with a great variety of landscapes.
Visit the Lloret de Mar website for recommended circuits.
Hiking and Nordic Walking
Choose one of the many itineraries that run along the coastline or that enter the forests to discover Lloret's cultural heritage or go to the most secluded coves that surround it.
Lloret is becoming a "NORDIC WALKING DESTINATION", with the essential elements that guarantee an enjoyable Nordic walking: natural places of great beauty, cultural heritage and an excellent weather, favourable practically throughout the year.
Adventure activities in Lloret de Mar
If you have an adventurous spirit and like strong emotions, Lloret de Mar is the ideal place for a holiday. In addition to its beaches and landscapes to enjoy outdoor sports, you can also try extreme sports like the ones we propose:
Some of the most popular activities in Lloret de Mar include scuba diving, snorkelling and kayaking. Ideal sports to spend a day with the family and discover the coves and the most inhospitable places of the coast. Another attractive option is to rent a jet ski and explore the coast. And if you're looking to enjoy an adrenaline rush and views of the Costa Brava, we recommend to try parasailing.
If you prefer a little more tranquillity, we recommend sailing or booking a cruise to see different towns and beaches of the Costa Brava.
Other options that have nothing to do with the sea are bungee jumping and quad rental to discover the natural surroundings of Lloret de Mar. You can enjoy both close to Lloret de Mar and they will certainly not leave you indifferent. Would you dare to try it?
Costa Brava with children: parks and attractions
Travelling with family to Lloret de Mar? If so, don't miss the opportunity to visit the Costa Brava's amusement and water parks. Perfect for family fun, your kids are sure to have an unforgettable day!
In Costa Brava you will find parks such as Waterworld water park in Lloret de Mar or Aquadiver in Platja d'Aro, about 30 minutes from Lloret. On the other hand, if besides attractions you want to get up close to dolphins and sea lions and other activities, don't miss Marineland Park. Located near Malgrat de Mar, about 15 minutes from Lloret de Mar.
The emblematic Barcelona is 70 km from Lloret de Mar. We recommend visiting Las Ramblas, the Olympic Port, and the wonderful works of the famous architect Antoni Gaudí, such as La Sagrada Familia, Casa Batlló and Parc Güell. The city also has a wide range of cultural, gastronomic and shopping options.
And if with all this, we still haven't convinced you, we give you 100 reasons to visit Barcelona. You can get there from Camping by car or by public transport from Lloret de Mar bus station.
We specially recommend to visit Tossa de Mar, it's an old fishing village with an exciting history and where artists and intellectuals lived, a magical place to spend the day with your loved ones.
From Camping Lloret Blau we encourage you to visit Lloret de Mar, a city with a multitude of activities. In our camping you can stay with all the comforts, we offer motorhome spaces, safari shops and all kinds of services like kids club, swimming pool, bar and camper area. Travel and discover until your memory is full!