Swimming pool with saline electrolysis, what are its benefits?
The words "saline electrolysis" begin to sound around swimming pool´s owners who are looking for a health and more sustainable solution for the water disinfection treatment  of their swimming pools.
At Camping Lloret Blau we have decided to apply this treatment to take care of both, our clients and our staff. In this post we will discuss this topic to understand what it is about and what are its main advantages and benefits.
Advantages and benefits of saline electrolysis
HEALTH
Greater body relaxation through water and a cleaner environment.
Automatically disinfects the pool, inhibiting bacterial growth and ensuring a healthy environment.
Avoid  eyes and mucous membranes irritations and prevent dry skin and hair.
The smell and taste of chlorine disappear completely in the pool, and also corrosive and unhealthy environments.
SUSTAINABILITY
The electrical consumption is low, since the system works with an equivalent voltage of a light bulb.
Reduces chlorine handling.
No need for storage of flammable products.
Water is cleaner, healthier and crystal clear.
How does a saline electrolysis equipment work?
Saline electrolysis systems have a great advantage and benefit in the care of swimming pools, as they increase water quality, avoid the use of chemicals and facilitate maintenance work.
Common salt is added to  water, about 4-6 grams per liter (SIX times less than salt at sea)
2. Once the salt is dissolved, an electric current is applied through the electrode, converting the salt into chlorine. At this way we get the disinfectant product that we need in water to destroy all microorganisms that may be present.
3. Once the chlorine has fulfilled its function as a disinfectant agent is converted back into salt, so salt concentration remains constant and only needs small refills due to the loss produced by filter washes.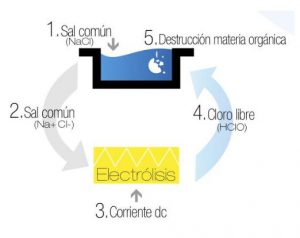 Source: http://www.piscinesdome.com