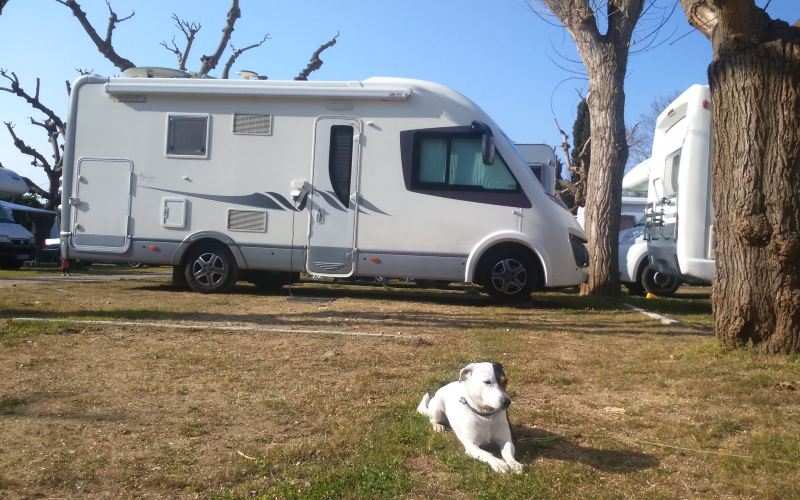 Camping with dogs on Costa Brava – Pet Friendly
We know that your dog is part of your family, and it's logical that you want to enjoy relaxing and carefree holidays with him, so at our campsite in Lloret de Mar (Costa Brava) you can bring your dog to enjoy your holidays.
Read on to find out about all the activities and services available at Camping Lloret Blau for you and your pet:
Pet-friendly campsite on the Costa Brava
The campsite is the perfect place for your dog to enjoy the many activities and idyllic landscapes of the area. Discover the pet-friendly accommodation at Camping Lloret Blau.
In fact, one in three of the total area of the Costa Brava are protected natural areas, so you and your dog can enjoy many different contrasts: from the most secluded coves with crystal-clear water to the most imposing mountains in the north-east of Catalonia.
What's more, your pet can explore, play and meet other canine friends on the campsite's wonderful pitches and in the most impressive natural spots on the Costa Brava.
Activities with dogs on Costa Brava
Your pet also deserves to have some fun and enjoy your holidays, right?
We offer you a list of activities and routes with wonder
ful natural landscapes that you can do with your dog and your family during your stay at the Lloret Blau campsite around Lloret de Mar and the entire Costa Brava area:
Lloret de Mar with dogs: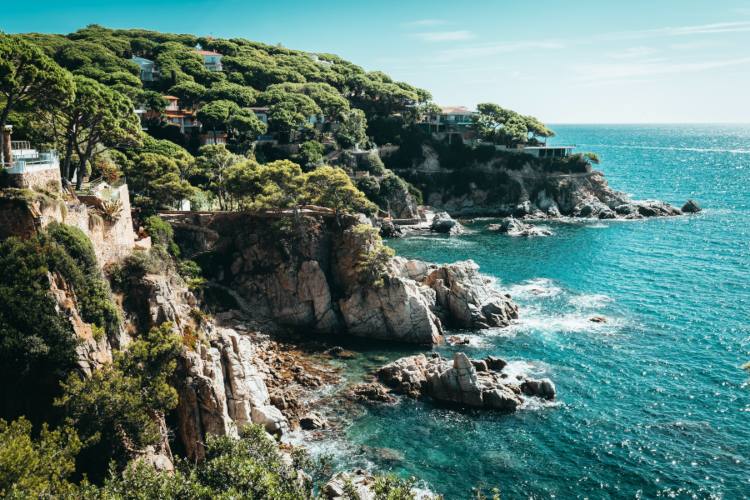 If you haven't yet discovered our little gem on the Costa Brava, what better way to do so than with your family and your faithful canine friend?
We suggest a route through the centre of Lloret de Mar so that your dog can take a leisurely stroll and at the same time you can delve into our nature and history.
We recommend a walk along Passeig Jacint Verdaguer until you reach Cala Banys. Near this beautiful cove you will find the Dona Marinera, a bronze statue located in a beautiful viewpoint.
From there you can see the Castell de Sant Joan, an 11th century fortification with a tower almost 20 metres high from where you can enjoy one of the best panoramic views of the city.
A few minutes away and bordering Fenal Beach, you will reach the Santa Clotilde Gardens, an impressive 27,000 square metre space where you can isolate yourself from the outside world while your dog enjoys its green spaces and ponds, a route not to be missed!
Hiking along Camino de Ronda:
One of the most recommended activities to do with your pet is hiking along the Camino de Ronda. Without a doubt, it's an ideal activity to exercise while you discover the nature and coves of the Costa Brava.
Here are 2 possible easy routes to do with your pet from Lloret:
Lloret de Mar – Tossa de Mar: during this pleasant excursion you can discover beautiful spots such as the "Castell d'en Platja", "Cala Canyelles" and even an Iberian settlement.
Lloret de Mar – Blanes: on this section of the Camino de Ronda, as well as enjoying the beaches and coves, you will find the Pinya de Rosa Tropical Gardens and the Santa Clotilde Gardens, not to be missed!
https://www.youtube.com/watch?v=3FpDWqMizmo
Dog-friendly beaches on Costa Brava:
If your dog likes to run around on the sand, we recommend you visit these extraordinary Pets Friendly beaches on the Costa Brava near Camping Lloret Blau:
Gossos beach: just twenty minutes by car from Lloret de Mar, in the town of Malgrat de Mar. With a space of 1,200 square metres delimited by fences and specially equipped for your pet to explore and socialise with other dogs in a unique landscape.
Poblenou beach: less than half an hour away by car you can enjoy this beach in Pineda de Mar, with an area of more than 100 square metres especially for dogs, available 24 hours a day, 365 days a year. Of course, your pet must wear a collar and identification chip and comply with the rules established for its use.
Both options are undoubtedly two experiences worth enjoying and taking advantage of to explore the area, but we encourage you to explore many more!
You can ask our staff any questions you may have regarding your accommodation on Costa Brava with your pet. They will be happy to help and advise you to make your holiday unforgettable.
So remember: if you want to enjoy a relaxing few days with your dog and your loved ones in one of the most charming places on the Catalan coast, Camping Lloret Blau offers you the best family holidays and a quality Pet Friendly service. Don't miss out!