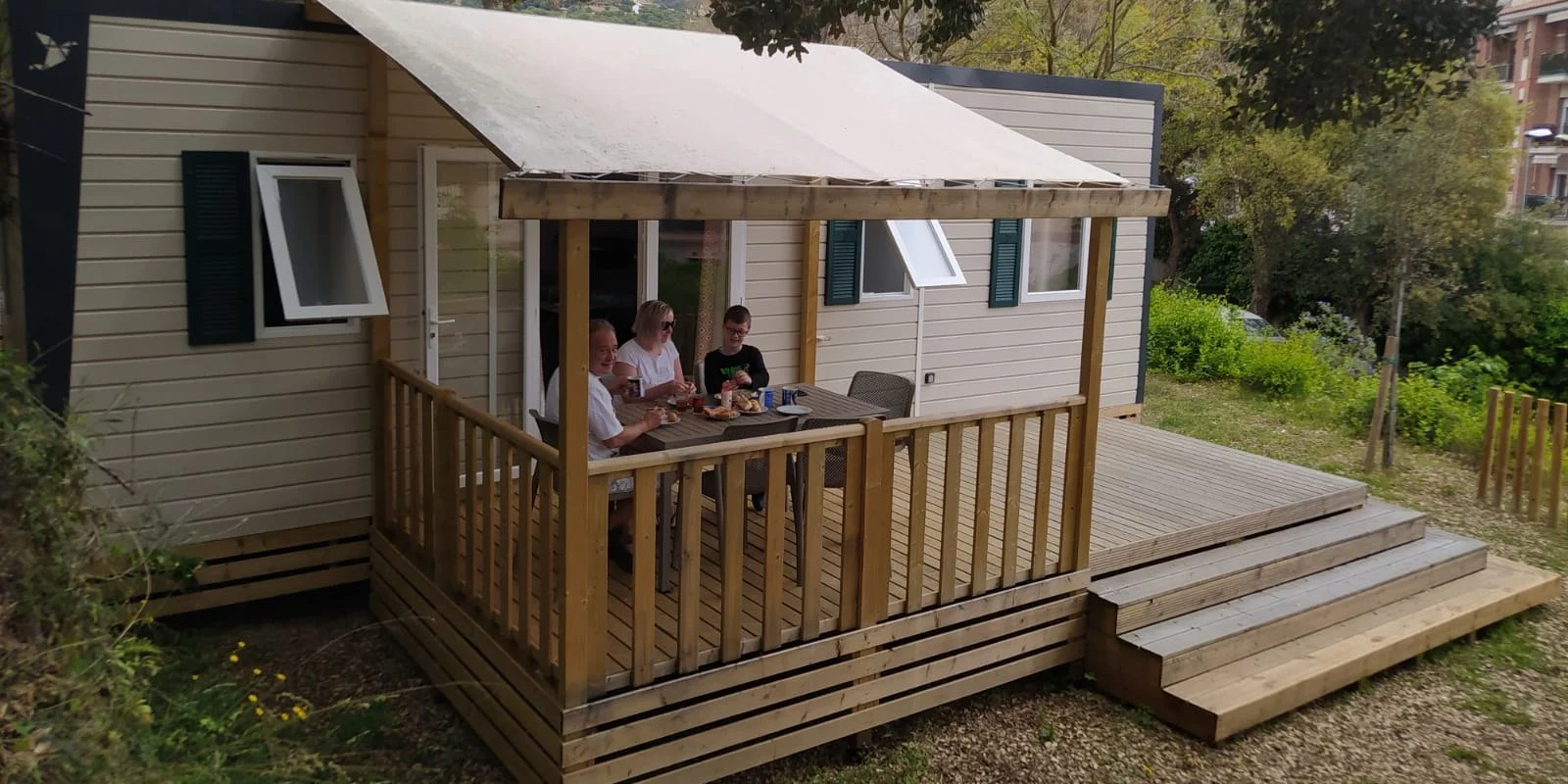 Bungalows in Lloret de Mar
Have you ever imagined enjoying your holidays in a bungalow right in the centre of Lloret de Mar? The beauty of the natural background surrounding Camping Lloret Blau guarantees an unforgettable experience for you and your beloved ones!
Do you love your holidays in the open air in close contact to nature, but at the same time you like the comfort of a fixed accommodation? Then the Camping Lloret Blau bungalows in the Costa Brava (Catalonia, Spain) are what you are looking for.
Our bungalows, located right in the heart of Lloret de Mar, near the beach and surrounded by a privileged environment, are the perfect option to connect with nature and enjoy the wide range of activities the Costa Brava offers.
Enjoy with your family and friends the incredible facilities in our campsite: its bungalows, glampings and Mobile Homes, with different prices, and the services that best adapt to your needs.
Bungalow: a unique holiday
In Camping Lloret Blau you will find what people consider to be the real luxury bungalows: Mobile Homes in a unique natural surrounding!
These bungalows will remind you of a flat because they offer all the amenities necessary to enjoy an unforgettable holiday and make you feel at home: heating system, air conditioning, fibre optic Internet connection, Smart TV, and your own terrace so that you can enjoy the incredible surroundings.
In addition, if you want to explore the area, don't miss the wide range of activities you can do in Lloret de Mar and in the Costa Brava. In case you have any queries, don't hesitate to ask us at the reception desk. We will be happy to answer any questions you might have!
Advantages of the bungalow: glampings
If you are planning a journey with your family, your friends or your partner, and you don't know the reason why you should stay in a bungalow in Lloret de Mar, read carefully about the advantages offered by our glampings, you will be surprised!
They are eco-friendly, as they are made out of the materials provided by the surrounding environment; therefore, a negative impact on nature is avoided. Besides, best quality is guaranteed.
They provide all the amenities you might need. Our bungalows are fully equipped with a double bed, a bedroom with a single bed and a bunk, a living room, a bathroom, and a kitchen with a microwave oven and a fridge. The best thing is the terrace: the perfect place to get some peace and quiet and relax!
We would like your experience on our campsite to be unforgettable, so you will be able to choose among all kinds of bungalows: traditional tents, Safari tents, wooden huts, igloos, campers… choose what best suits your needs!
Bungalow prices adapted to what you are looking for. A wide range of possibilities and prices according to exclusivity and more affordable
We are looking forward to meeting you at Càmping Lloret Blau, where adventure also means comfort, peace and quiet. What else can you ask for?