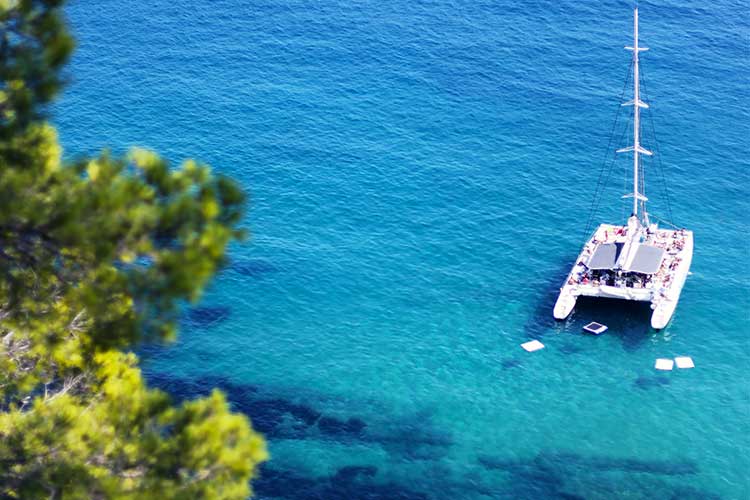 Best beaches of Lloret de Mar
With its beaches, gastronomy and atmosphere areas, Lloret de Mar has become a popular destination for tourists from all over the world. The municipality, with its more than 11 kilometers of golden sand beach, has become one of the best-rated urban beach destinations in the province of Girona.
When you go camping in Lloret de Mar, you have a wide range of beaches to visit. From Camping Lloret Blau, we want to present our 5 favorite beaches and coves, as well as reveal all its secrets. You are ready? Take note that we started!
Big beach
If you are looking for an extensive area with many services and facilities (bars, restaurants, water activities, parking and even daycare services for the little ones), Playa Grande will be one of your best beaches in Lloret de Mar.
Located in the same town, the beach has more than 1 kilometer of white sand. Despite its extension, in high season, it can be very busy, but in low season it is perfect for a walk on the seashore.
Sa Boadella Creek
One of the most famous beaches of Lloret de Mar and, personally, one of our favorites. It is a virgin beach of Lloret de Mar of shallowness that is far from the center and is perfect for water sports.
Being away from the hustle and bustle of the center, it is the ideal cove for those looking for a quiet place to enjoy the sand, water and sun.
In this cove the practice of nudism is allowed. To arrive you must leave the car on the road that goes up to the hermitage of Santa Cristina and travel a path of about 200 meters to the beach.
Santa Cristina Beach
One of the most popular beaches among Lloretians, since the main festival of Sta. Crisitna is held on this beach on July 24. A quiet and familiar beach, protected from wind and waves thanks to its geographical location.
To access this beach it is necessary to park our car next to the Hermitage of Sta. Cristina and travel a dirt road to the beach of about 500 meters. Next to this beach is Cala Treumal, a paradise-like beach separated from Santa Cristina by a rock.
Fenals Beach
Being the second largest beach in Lloret, with more than 700 meters, it is also one of the ones with the most services and facilities.
The beach stands out for its calm waters and golden sand, and is perfect for a family day. In addition, it is adapted for people with reduced mobility. In summer it is full of tourists, but in low season it is an ideal place to walk with your partner or friends.
Canyelles Beach
One of the best coarse sand beaches of Lloret de Mar that is farther from the population. Thanks to its secluded location and its size, you can enjoy this beach throughout the year (even in high season) without feeling drowned among people.
The highlight is that it has the peculiarity of housing the only marina in Lloret de Mar.
But in Lloret they are not all beaches, the municipality also presents a wide range of leisure and cultural events. What are you waiting to come to your favorite Costa Brava family camping this summer?